To be honest, it was awesome in participating in Miguel de Cervantes 17th century Spanish literature with a handful of enlightened seminar people. Diving in one of Spain's most popular and modern life application novel is for each of us a personal obligation to remember. Regardless the novel is known to be approximately four centuries old, like a solid rock, the message of Don Quijote still stands. What is the message? You might as well ask:
I will remember how  Alonso died in the first Volume in order the Quijote vision can be pursued by none other than Don Quijote de La Mancha. he was very persistent in applying his imagination to reality. Throughout his journey, he ignores the pressure of realism. To him, they are only insults to his imagination. From the perspective of society, one could say that he contained illusions. However, his illusions were, for a majority of the part, not consequential illusions. Rather, they were illusions reminding the knight-errant of the obligations of his identity.
https://estaticos.muyinteresante.es/media/cache/400x300_thumbs/uploads/images/pyr/55520750c0ea197b3fd5128b/quijote.jpg
He perceived castles as inns:
" Sir castle-man, anything at all is quite sufficient for me, because all I need is my armor, my only rest is war – and so."
( Don Quijote, Volume I, Chapter 2, Page 19)
He perceived windmills as giants: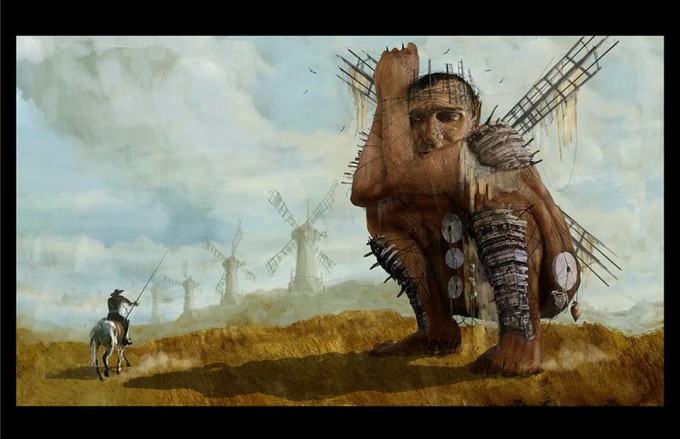 " Destiny guides our fortunes more favorably than we could have expected. Look there, Sancho Panza, my friend, and see those thirty or so wild giants, with whom I intend to do battle and to kill each and all of them, so with their stolen booty we can begin to enrich ourselves. This is noble, righteous, warfare, for it is wonderfully useful to God to have such an evil race wiped from the face of the earth."
( Don Quijote, Volume I, Chapter 8, Page 43)
He perceived herds of sheep as armies:
" My enemy, that thief of a magician, works like this, making things disappear and turn into other things. You must understand, Sancho, how easy it is for the likes of him to make us believe whatever they want to, and that this evil creature who so persecutes me, jealous of the glory he saw me about to win from this battle, transformed the ranks of my enemies into flocks of sheep.But if you still do not understand, Sancho, do this one thing, by my life, to undeceive yourself and see how truly I speak: getup on your donkey and follow carefully after them, and you will see how, once they get a little distance away, they will turn back to what they really are and, no longer animals, will be in all respects men, exactly as I first told you they were…. But no, don't leave me yet, because I need your kindness and help. Come over here and see how many teeth I'm missing because it feels as if they haven't left any in my mouth."
( Don Quijote, Volume I, Chapter 18, Page 102)
In these exemplified scenes it seems Don Quijote is asking himself the following question: What kind of a person am I? The Don's passion is not spurted out for success but fulfilling his sense of himself. He's disciplined not by incentive. Rather, by his identity.
One may refer him something harsh such as self-delusional only because he lives under the personal obligation of knighthood. With that being said,  his numerous times of failure may support this case, but he we have observed him as being persistent in turning the other cheek. Quijote sees the failures as confirming the purity of his commitment. In simple terms, Don Quijote does not let his failures dictate who he is, but converts his weaknesses into his weapon of strength.
I won't forget his search for justice. I would perceive the world and still unable to get a whole lot of confirmation of the idea justice will be established. Although Quijote may not have exceeded in living up to Justice. Unfortunately, the little boy Andres from the beginning had difficulty in bearing the concept of it since his master tormented him with terror and fear. Another example would be the galley slave liberation scene in Chapter 22.
" What you mean, however you put it, is that these people, whether they like it or not, are being compelled to travel this road, against their own free will."
( Don Quijote, Volume I, Chapter 22, Page 127)
He did not view it unwise in engaging with the opposite norm of justice. A just man would be productive in doing his best along with giving the precise equivalency of what he has received. I would say it takes a great leap of valiance, confidence, and desire to say no to injustice.
" Justice is a virtue establishing rational order, with each part performing its appropriate role and not interfering with the proper functioning of other parts. "
– Plato
" Justice consists in what is lawful and fair, with fairness involving equitable distributions and the correction of what is inequitable."
– Aristotle
One if the knight's responsibility is maintaining justice in maintaining a stable political society. Regardless one may not concur with the fundamental basis, nature, and its legitimate application, but this is its absolute core.
Therefore, there is denying in the fact that Don Quijote was committed to his identity throughout his knight-errant journey. A commitment to an identity gives out a basis for that kind of useful craziness. For the chivalric knight, that admirable consequence is irrelevant. I have reason to believe that the message of Don Quijote is an aesthetic message about beauty. Quijote's imagination creates beauty not only in Dulcinea but in the rest of the world around him. He teaches us to find beauty in everyday life. Imagination is a creative tool at our own disposal. With this tool, we have the power to resists the limitations of reality. It's a moral message in developing a life that ennobles the human spirit. Life, as well as leadership, require passion and discipline. I am grateful of Don Quijote. With his intervention, I feel as though that I'm nearly there in discovering de quien soy. After 400 years, Viva Quijote haste el final!