From reading chapter one to chapter sixteen in the second volume, we are able to see a  character transformation within Don Quijote's squire, Sancho Panza. He steps into the shoes of a person with a more varied perspective along with the quality wisdom. From being curious, he inherited a decent amount of learning from the world around him.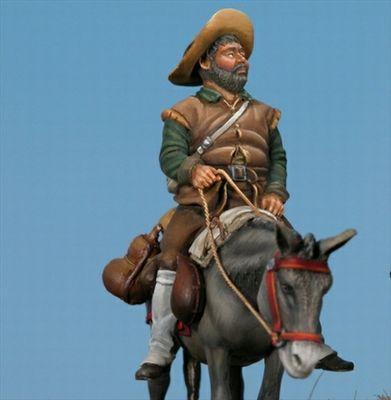 https://pbs.twimg.cim/profile_images580638862625652736/6zlnU_qd.jpg
In the first volume, Sancho Panza was portrayed as a man who attained a set personal goal for himself. His mentionings of his fascinations are, not totally, narrowed down  In chapters twelve and thirteen, there is a union of both squires and knights form a bond with each other. Both Knights, technically masters, establish a conversation while the squires do the same. In this scene, we see Sancho and Thomas Cecial, his neighbor, share the same level of expectations that their masters will make each of them a governor of an aisle.  His dominant reason was embarking on the journey with Don Quijote. He wanted ' very badly to see himself the governor of an island, as his master had promised.
" Now be careful, your grace, sir knight-errant, you don't forget that island you promised me because no matter how big it is I'll know how to govern it"
He priority is straightforward. His ideas are a bit malleable, unclear in constructing his sense of the world. The imagination of the peasant laborer is funded up with achieving his precious island. Panza dedicates that his island has the potential to become his reality.
( Don Quijote, Volume I, Page 42)
Don Quijote's straightforward response to his squire was stated:
" You must now, Sancho Panza my friend, that it used to be very common, in ancient times, for knights-errant to make their squires governor of whatever islands or regions they conquered, and I am resolved not to neglect this gracious custom – indeed, I intend to improve on it, for occasionally, and I suspect most of the time, I intend to improve on it, for occasionally, and I suspect most of the time, they waited until their squires had grown old and fed up with such service, enduring bad days and even worse nights, and then gave them a title – count, or more often maquis of some valley or province, more or less. But if you and I both live, it could be that in less than a week I'll have conquered a kingdom to which others pay allegiance, which would be just right for crowning you ruler of one of those subordinate domains. Nor should you think this in any way remarkable, for no one can possibly foresee or even imagine the way the world turns for such knights, so it could easily happen that I will be able to grant you still more than my promise."
( Don Quijote, Volume I,  Page 42-43)
Although Panza expects his share, the quote indicates  Don Quijote himself has deeply been familiarized with the traditional procedure.  He states the other possible benefits that enlighten Sancho's mind. These possibilities give Sancho further ideas that can align with his future governorship of an island.   A master keeps his word until it is reached, but my theory is that the Don is willing to stretch out more pieces of rewards only if Sancho proves himself to apply the role of a squire and obey every word of command from his master.
On the other hand, a new Sancho has been born from the old. His fascinations are barely brought up. An adaptation to a calm life is his new reality. We begin to see, once again,  his growth of wisdom and perspective. For instance, After the Don stated that Knight and Squire of the Woods were just an enchantment, Sancho, uncertain what to think but knows the reality says the following:
" God only knows what the real truth is about all this"
( Don Quijote, Volume II, Page 437)
The expedition with Don Quijote is held accountable for mentally strengthening him as a person. ' His master's fantastic ideas didn't convince him; on the other hand, he had no interest in arguing, for fear he would say something that would give away his trick .' Despite he may not have reached the isle governorship early, he was using his brains as a wise and just ruler as a governor. The duty of a governor has a great bounty of duties to attend to but his main is to be in charge of a political administration of a region or state. Before being in a position of power, he must apply it responsibly and be held accountable for it, have a solid place for morality, and good judgment. Without carrying the stated following, the state or region will deteriorate none other than poor leadership.
Without any doubt, Sancho Panza, is a transformed person, from a cowardly and ignorant man to a broadminded and intelligent man of stature.